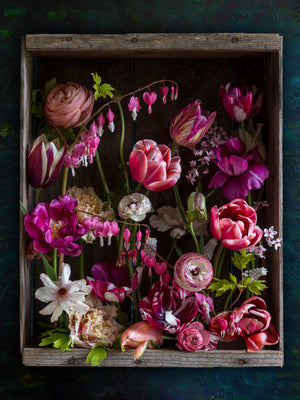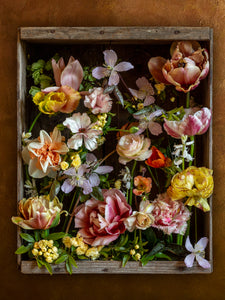 THE SANCTUM SERIES
In March of this year, I was teaching at the New York Botanic Garden with a dreamy literary launch ahead of me: a book party in London, time with my son in Paris, followed by a celebration on the publication day of Cultivated: The Elements of Floral Style at a small château in France. As bookshops closed the world over, and my sadness settled into grief, I struggled to create despite the beauty of the blooms in my garden. One day, I saw this old box in my studio. It's a fruit crate, maybe six inches deep with slats for a back. I came to see it as a form of containment and safety—a defined space to function within, mirroring my life in the pandemic.
View Prints
LIMITED EDITION PRINTS
In working on the book, I often had to make an arrangement from my garden to express an idea or explain in detail why a certain design worked. As such, flowers taught me how to see light and shadow and space and line whilst also training me in the nuances of colour. I came to think of the practice as painting with with flowers.
VIEW LIMITED EDITIONS